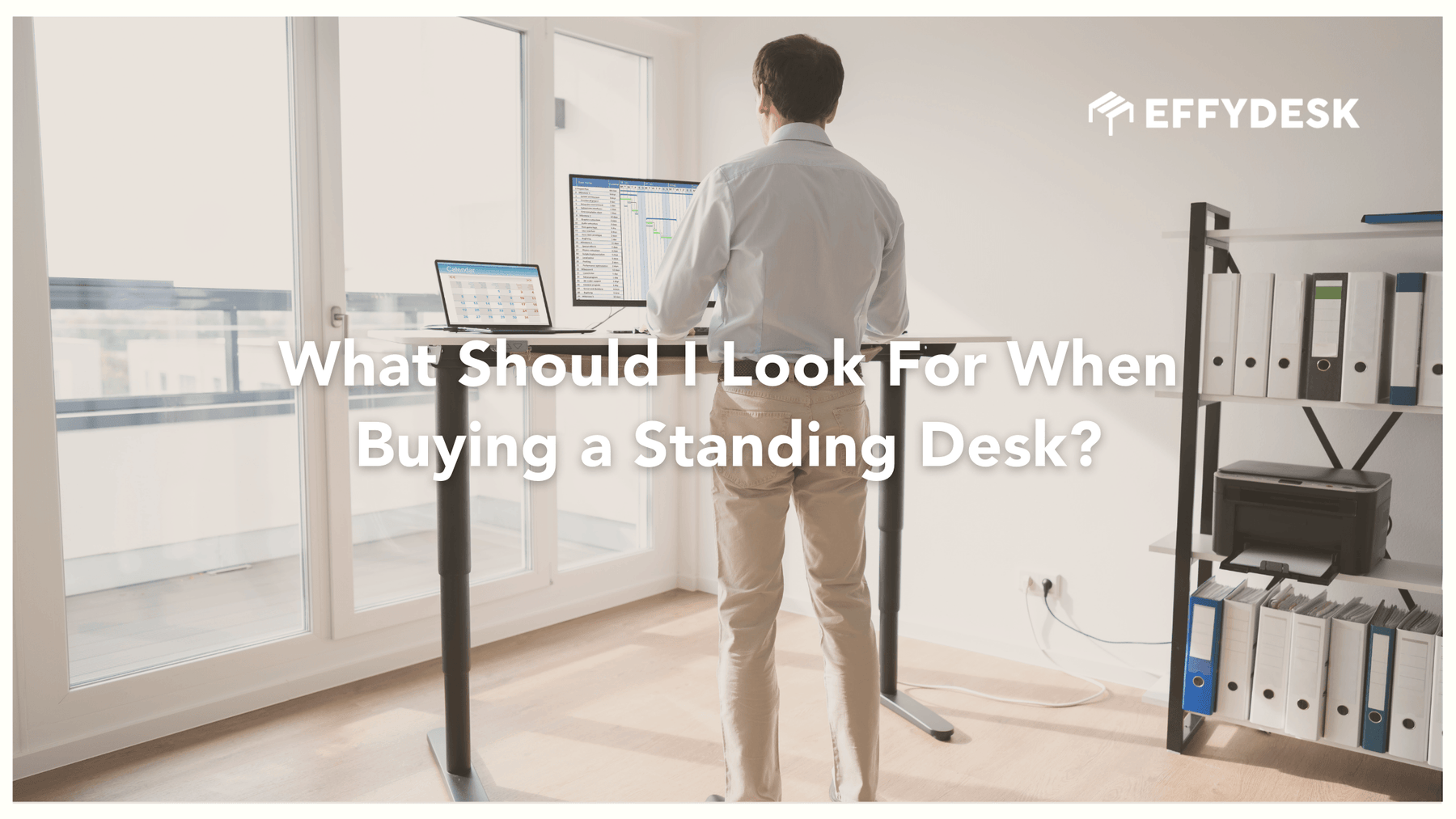 What Should I Look for When Buying a Standing Desk?
If you want to take a stand against the sitting disease, investing in an electric height-adjustable desk is a great step in the right direction! 
Canadians spend a lot of time sitting down—up to three-quarters of our day! With all this sitting comes the sitting disease, which can include an increased risk of diabetes, heart problems, and obesity. It's no wonder offices are making the switch to standing desks!
And the many health benefits of sit-stand desks are nothing to sneeze at, either. Did you know that using a standing desk…
Reduces your risk of obesity

Alleviates

back pain

from sitting

Lowers your risk of heart disease

Boosts energy levels and productivity
But there's such a wide array of standing desks in every shape and size--it's hard to decide which one is for you! If you're lost in a sea of standing desks and don't know what to look out for when you're choosing, we hear you.
Today, we're going to narrow down the top 6 things to look out for when you're buying an adjustable standing desk. Once you know what you need, you can go forth and build the home office of your dreams! 
Top 6 Things To Look Out For When You're Buying an Standing Desk 
1. Size Matters
The first thing to consider is your office space. How much room do you have for a standing desk? Where do you plan to stand, and do you have room for an ergonomic chair as well? (Remember, you should only be standing for about 30 minutes every hour!) 
Once you've sized up your space, think about your work surface. How big of a tabletop will you need? If you like everything to be within arm's reach, pick a compact desk that will hold your keyboard and stationery close by. Maybe you decorate your desk with plants, or you like to spread our papers out in front of you. Find a wide tabletop, or maybe check out a corner desk setup for even more room! 
2. Adjustability
The adjustment range of the desk is one of the biggest factors when it comes to picking a desk. Without the adjustments, your sit-stand desk would be pretty useless! 
Check out the desk specifications--how much height range does it have? This is especially important to consider if you're taller or shorter than average. Make sure you can work comfortably in front of the desk with good posture. Whether you're sitting or standing, there should be no hunching or straining! 
This can sometimes be hard to determine if you're ordering a desk online, but you can further customize your desk setup with a monitor arm. This way, your monitor can be adjusted freely to accommodate your posture needs. 
3. Durability
What's the weight capacity of the desk? Having a durable desk is important. It should be able to hold your keyboard and monitor(s) without a hitch, as well as any accessories and snacks you might load up on it. 
Consider the material. If the tabletop is made of flimsy wood, you definitely shouldn't put thousands of dollars of electronics on it! Look for firm, sturdy wood tabletops or equivalent composites. (Our TerraDesk is made of compressed recycled chopsticks, which results in a tabletop stronger than oak!)
Look for wide feet so your desk doesn't wobble when you adjust it up and down. Strong columns mean they can hold up your setup without shaking! Which brings us to our next point...
4. Motors
How many electric motors are doing the heavy lifting on your adjustable desk? Look for desks with dual motors so that your desk can be moved from sitting to standing position without any trouble. 
If you work for 8 hours a day and switch positions every half hour, that's at least 15 adjustments from sitting to standing every day! That adds up to at least 300 adjustments every month--and that's if you're the only one using the desk. If you have coworkers or family members who share the desk, you'll need a durable motor to keep up!
Pay attention to motor noise as well. If it's pretty loud and noticeable now, just think how annoying it'll be in the long term! A quiet, efficient motor will help you adjust the height daily without a headache.  
5. User-Friendly
If you're using this desk at home, make sure it's relatively easy to set up and use. There's nothing worse than excitedly receiving a new piece of furniture and then having to spend three hours reading instructions just to figure out how to put it together!
Check to see that the desk is easy to operate and adjust. Bonus points if there are presets on the keypad so the desk lifts and lowers to the exact right height for you every time! 
6. Shipping and Warranty
If you need your standing desk right away, make sure to check when it will arrive if it's being shipped to you! Also read the company's shipping policies. Are there additional hidden fees you need to know about? 
The last thing to look out for before you hand over your credit card or hit "buy now" is to check the warranty. A stand-up company (see what we did there?) will back their product with a good warranty that will cover any defects for a few years. Most standing desks come with at least a 6-7 year warranty. That's how you know the company is proud of their product!
Looking for a standing desk that can check all your boxes? EFFYDESK has got you covered!
At EFFYDESK — we design, mould, and deliver the best Electric Standing Desks for professional or personal use. 
Still have questions about finding the right ergonomic standing desk for you? EFFYDESK has answered customers and Redditors on the most frequently asked questions about standing desks.
Our award-winning ergonomic office chairs ensure that office workers are protected against desk job damage, and are well-equipped to maximize efficiency and morale in the workplace — wherever that may be for you.
Browse our signature Standing Desks, Office Chairs, and Monitor Mounts designed to boost workplace productivity, so you can get more done, more comfortably. 
To learn more about EFFYDESK's products and services, be sure to check out our FAQ page or browse the blog archive for other helpful articles on ergonomics in the workplace.