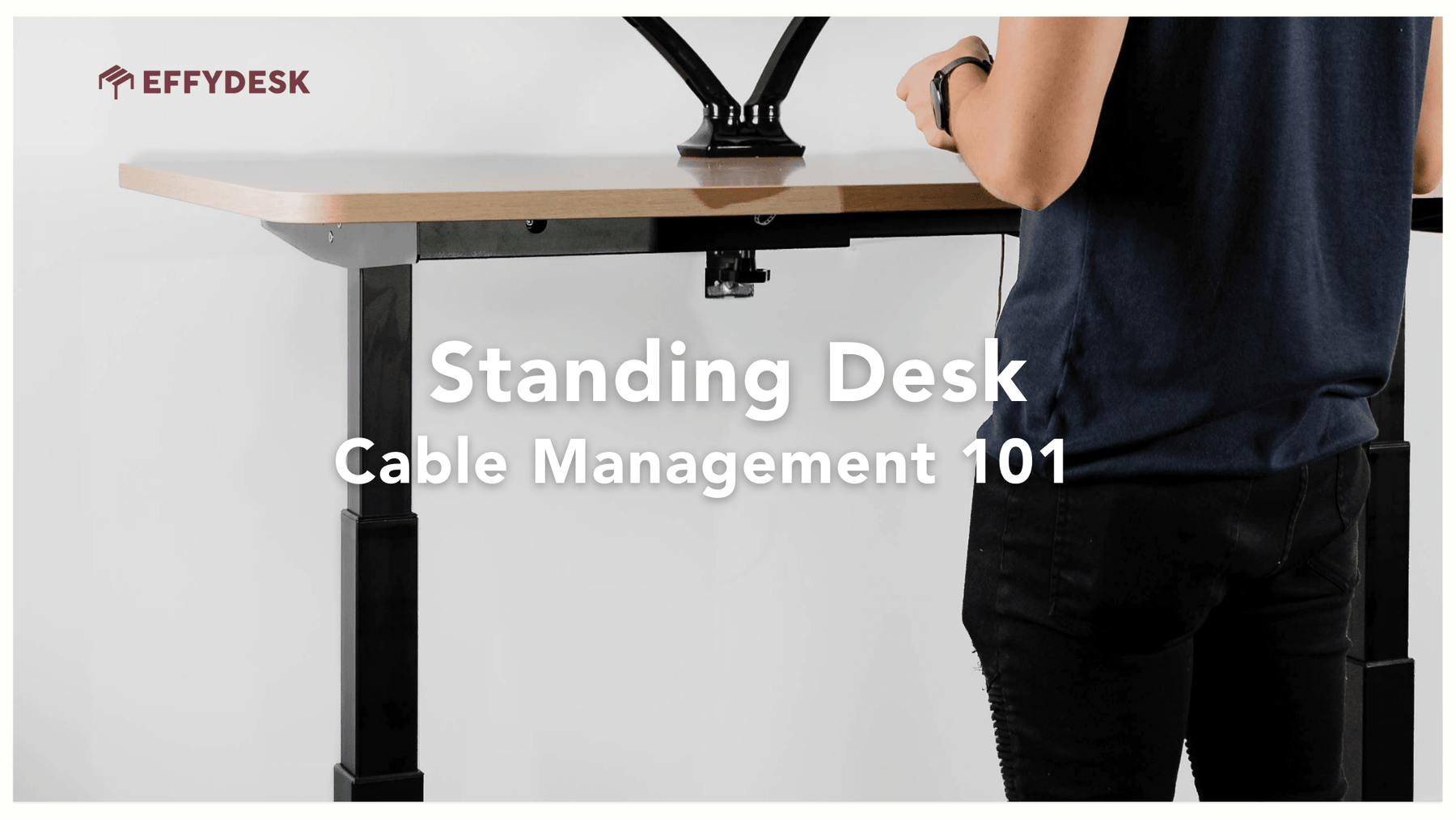 Under-Desk Cable Management 101 for Standing Desk Users
If the thought of messy cables and a cluttered desk space sounds all too familiar – you've come to the right place. 
Whether you're sitting at a regular sit-down desk or an electric sit-stand desk, you're probably familiar with that rat's nest of cables! Routers, keyboards, monitors, and charging cords—sometimes the mess gets frustrating.
It's even worse when they're all the same colour and you can't tell which one you need.
Does this sound familiar?
In this article, we'll be discussing the best tips and options to explore when it comes to under-desk cable management. 
Why is Standing Desk Cable Management Important?
Effective cable management is such an integral part of a productive desk setup.
With sit-stand desks, managing your cords is especially important with the changing height of a standing desk. You need to consider the lengths of all your cables and allow enough room for height adjustment.
On top of that, efficient wire management can help you keep a clear mind when you're working. When there's less visual clutter on your desk, you're less likely to procrastinate or get distracted!
Clean desk=clear mind.
Plus, proper management solutions can prevent damage to your cables and help them last longer.
Today we're here to present you with our top 6 tips for simple and effective cable management in an ergonomic workspace.
Use these ideas in combination with one another for an organized, clutter-free desk setup! (Pro tip: Try these cable management ideas with your TV, gaming consoles, or kitchen appliances.)
1. Cable Wrap
This is the simplest way to get your wires in order. The basic idea here is that one large wire is much easier to deal with than 5 wires that can get tangled up.
Cable wrap is great if you've got many wires travelling from one place to another, like from your desk-top to the power socket in the wall.
Cable clips are best for keeping long wires wrapped neatly– a real lifesaver for wire storage.
If you've got zip ties or twist-ties, this is also a quick, inexpensive solution, as they can bundle your wires in a pinch.
2. On-Desk Cable Clips
Not to be confused with the previously-mentioned cable clips, these on-desk cable clips keep your cables off the ground and prevent them from being stepped on.
Stick them to your desk and there's no more awkward fumbling around on the ground for your charging cord!
Cable clips also come in a variety of colours, so you'll be able to tell your wires apart easily. They're also a great way to add a pop of colour to your desk.
3. J Channels or Hooks
To keep your wires neatly hidden away, try J Channels. These are casings for your wires that attach to the beams or legs of your desk, keeping them neatly tucked away.
If you match the colour of the J channel to the colour of your desk, it's almost impossible to see the wires at a quick glance. 
J Channels are ideal for wires that don't move around often, like cables for a desktop that stays at the desk all the time. They take a little bit of configuring to get the wires all running to the right place! 
If you've got cables you move often but want to keep semi-hidden, try command hooks for a similar solution! Little plastic hooks can do some serious wire wrangling. 
4. Grommets
Ever seen those little plastic circles on tabletops? These grommets are great built-in solutions for cable management! All your wires can be corralled and sent under your desk. No wrapping or hooking required!
Each EFFYDESK Home Office and Business Office tabletop comes with a grommet. The Executive Office L-Shaped Standing Desk comes with two grommets for easy cable organization. 
Pro tip: for even simpler cable use, look for powered grommets, which have power sockets built right into the desk. 
5. Surge-Protecting Power Strips 
Once you've threaded your cables through a grommet, you've got to have somewhere to plug them in. Instead of yanking 4 cables to your nearest wall outlet, plug them into a convenient power bar under your desk!
Attach a power strip to the underside of your desk to make it easy to plug and unplug your devices. Plus, you'll only have one wire to plug into the wall, so that's less hassle for you! 
Pro tip: Invest in a power strip that's also a surge protector, as it will protect your electronics from getting fried in the event of a power surge.
6. Management tray or box
When you just don't feel like hooking or wrapping or running cables around your desk, install a cable management tray under your desk.
Sometimes you just need to toss all your cables into a tray to get the clutter off quickly.
Cable-management boxes can come in handy when you don't want to see any wires at all. (Don't forget, you can use cable clips to keep little wires wrapped up neatly!)
The advantage of a full management box rather than a tray is the fact that you can mount a power strip inside it. So you can plug in your electronics, shut the door, and be done with it.
Ready for an All-In-One Standing Desk Cable Management System?
You asked for it —  you've got it!
Each EFFYDESK Business Office, Executive Office and Eco-Friendly Electric Standing Desk comes with free, complementary cable management trays and power bar strip holders for your cable organization needs.
At EFFYDESK — we design, mould, and deliver the best Electric Standing Desks for professional or personal use. 
Our award-winning ergonomic office chairs ensure that office workers are protected against desk job damage, and are well-equipped to maximize efficiency and morale in the workplace — wherever that may be for you.
Browse our signature Standing Desks, Office Chairs, and Monitor Mounts designed to boost workplace productivity, so you can get more done, more comfortably. 
To learn more about EFFYDESK's products and services, be sure to check out our
FAQ page
or browse the
blog archive
for other helpful articles on ergonomics in the workplace.