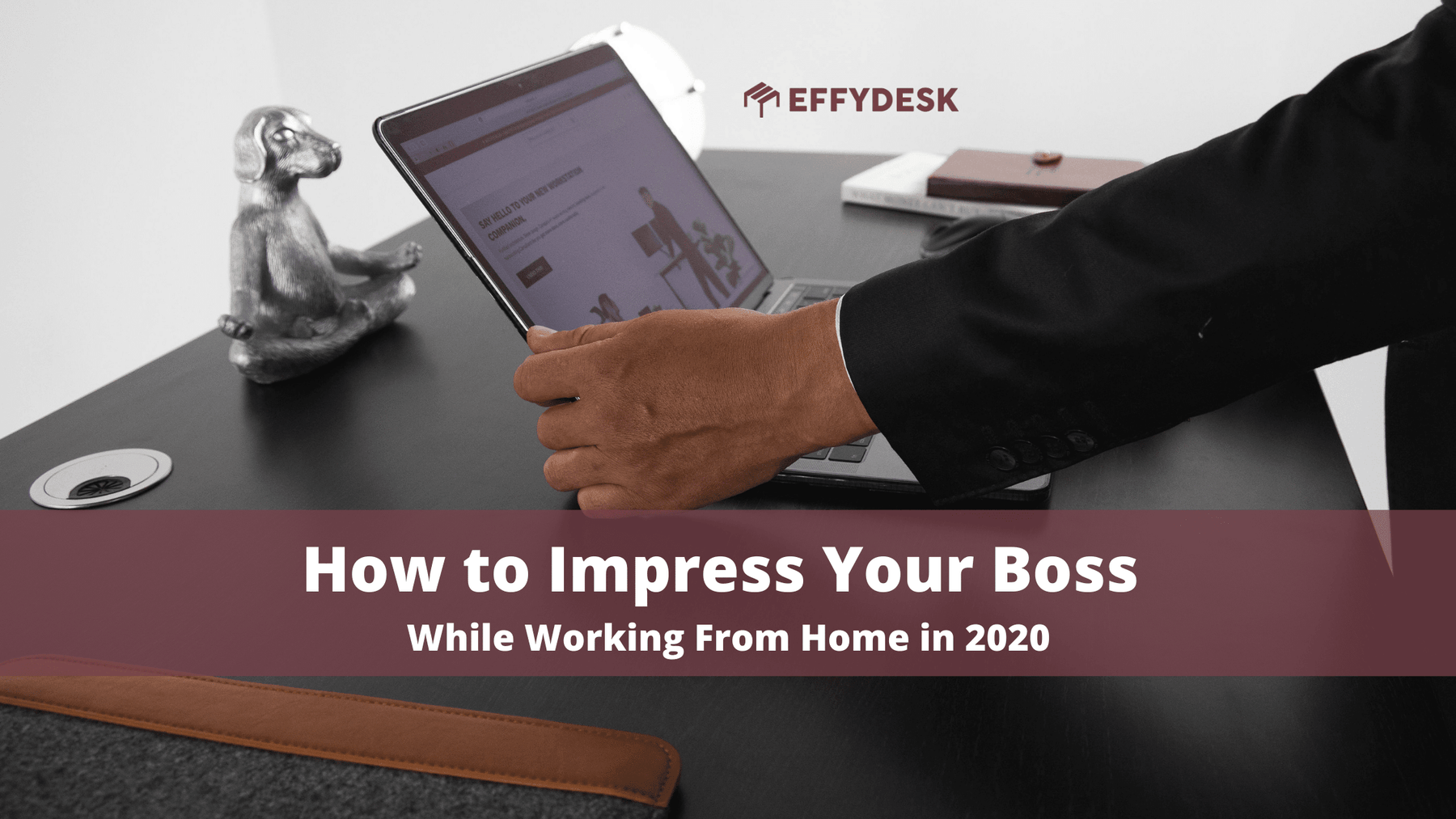 How to Impress Your Boss While Working From Home in 2020
Since the start of the pandemic, 4.7 million Canadians have switched to working remotely in order to prevent the spread of COVID-19. As coronavirus continues to spread and the world braces for a second wave, working remotely has become the new normal. 
Remote work means your boss or supervisor is no longer able to just pop their head to check in on you. However, working from home is not for everyone. 
On one hand, many Canadians are exploring their newfound freedom of staying home during COVID; perhaps feeling refreshed by being out and away from the corporate office. On the other hand, others may be feeling burnt out, trying to complete tasks and meet deadlines in a completely different working environment. 
While some are enjoying this transition, others are struggling. Which side are you on? 
As we continue to work from a distance, it can also be difficult for your boss to recognize all of your hard work. Now is the perfect time to leverage yourself -- impress your boss, and get that promotion! 
So, how do you make yourself stand out while working remotely? Here are some attainable tips to help you impress your boss and receive positive feedback while working from home. 
1. Be Present and Available During Work Hours
While working from home, be present and responsive during work hours. Respond to messages and calls in a timely manner -- this shows that you are present. Make sure that you're checking your emails regularly, and staying up to date throughout the workday.  
PRO TIP: Create consistency within your work schedule. Whether your schedule is assigned or self-made, honor the hours that you've committed to. If you need to change your schedule, be sure to notify your supervisor and coworkers, just as you would if you were working from the office. This shows your supervisor that you are reliable and dependable. 
Treat video conferences as in-person meetings, take the extra step and get dressed up (at least from the waist up) for your meeting. It is still important to look professional, even if you're wearing pajamas and slippers on the bottom. 
Impress your boss by being punctual, present, and prepared.
2. Set Boundaries Between Work and Home 
Set clear boundaries between work and home. Just because your dining room has become your new office, doesn't mean you should be working while you're eating dinner. 
In order to avoid burnout, make sure you are setting boundaries. Stick to your work schedule, and don't let your work life carry over into your personal life. Having a healthy work-life balance makes you a better employee.
After all, a strong work/life balance has been known to increase productivity, improve accuracy, heighten motivation, inspire innovation, and boost workplace morale. Establish boundaries and take breaks -- impress your boss by becoming the best version of yourself!
3. Take Initiative and Express Curiosity on New Projects
Show your boss you care. Take initiative and get your work done without being asked to. Taking initiative on tasks shows that you are hardworking -- this will leave a positive impression on your boss, and help you gain their trust. 
Be proactive in spotting problems, and find solutions without the direction of your supervisor. Be tedious with your work, and triple-check everything to reduce the chance of error. 
PRO TIP: If you finish your work early and have extra time, impress your boss by asking to take on more tasks. Express curiosity on new projects, to show that you're a versatile team player with long term growth goals. 
Just make sure you're not overwhelming yourself with new projects! Be sure you have allotted enough time to complete your work before you take on new tasks -- remember: quality over quantity.
4. Prioritize Communication by Sending Periodic Updates
While working from home, it can be difficult to keep up with communication-- make it a priority. Communication is key, and it is one of the most desirable soft skills.
Prioritize communication with not only your boss but also your coworkers, make sure you're in the loop. Just try not to hound your coworkers or your boss with unnecessary updates. Don't be afraid to ask for their communication preferences.
In conjunction with their communication preferences, use your best judgment. If it's not urgent, stay connected by sending periodic updates. Make sure you've covered all the points while keeping it short and simple. 
Pro Tip: Unless your employer requires daily updates, try sending a clear and concise email detailing your progress and current projects twice a week to ensure everyone's on the same page. 
5. Boost Productivity by Ergo-optimizing Your Workspace
Work smarter! The easiest way to boost your productivity and impress your boss is to ergonomically optimize your workspace. Get more done, comfortably, by incorporating ergo-friendly furniture and accessories into your workspace. 
Switch to an adjustable sit-stand desk and reap the benefits. Your body and mind will thank you for the upgrade. 
Get rid of that old leather office chair, it isn't doing you any favors. Invest in an ergonomically designed office chair to reduce back pain and increase productivity.
Lastly, don't forget about your feet! When switching between seated and standing positions, make sure you have an anti-fatigue mat under your feet. 
Looking to ergonomically optimize your workspace? EFFYDESK is here to help. 
At EFFYDESK — we design, mould, and deliver the best Electric Standing Desk for professional or personal use.
Our award-winning ergonomic office chairs ensure that office workers are protected against desk job damage and are well-equipped to maximize efficiency and morale in the workplace — wherever that may be for you.
Browse our signature Standing Desks, Office Chairs, and Monitor Mounts designed to boost workplace productivity, so you can get more done, more comfortably. Claim your 30-day free trial today.
To learn more about EFFYDESK's products and services, be sure to check out our FAQ page or browse our ergomindfulness blog for more helpful articles on ergonomics in the workplace.