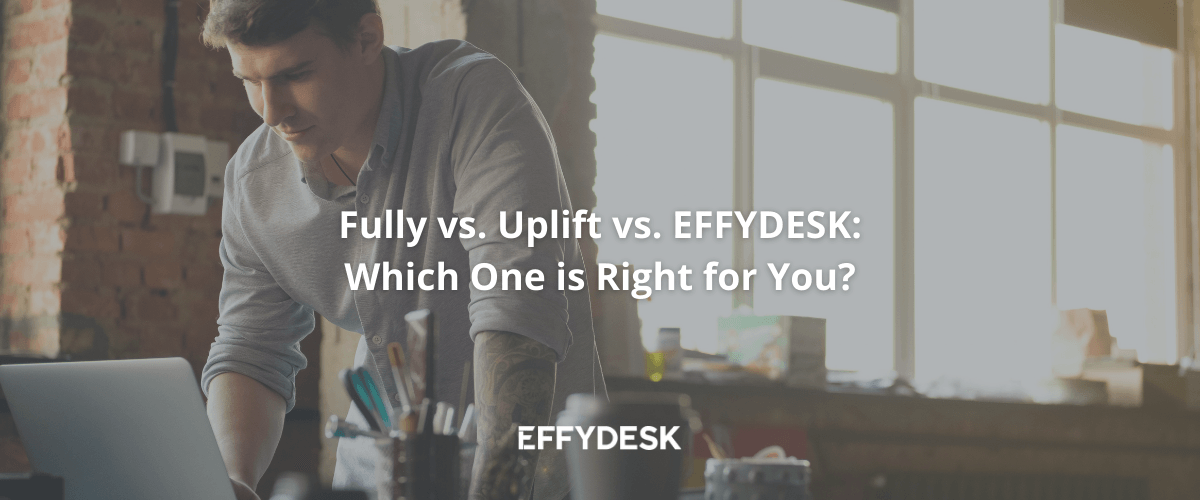 Fully vs. Uplift vs. EFFYDESK: Which One is Right For You?
Canadians on average, spend 10 hours of their waking time sedentary. No wonder more and more Canadians are making the switch to adjustable standing desks. Your fellow Canadians are beating inactivity by ergonomically optimizing their workspaces, and you should too. 
But with so many options available, how do you choose the perfect electric height-adjustable desk for you? 
What are the biggest differences between the Fully Jarvis standing desk, the Uplift V2 standing desk, and EFFYDESK's Business Office Sit Stand Desk? 
We're bringing it back to the basics, with an in-depth comparison of the three top-selling models of sit-stand desks from EFFYDESK, Fully, and Uplift. 
We've compared and compiled all the specs on the industry leaders in ergonomic sit stand desks, EFFYDESK's Business Sit-Stand Desk, Uplift's V2 Standing Desk, and the Fully Jarvis Laminate Standing Desk, so you don't have to! We've even included desk comparison charts below for quick reference so you can choose the perfect standing desk for you.
Without further ado, let's get started. 

Base Sturdiness 
The most important thing to consider when choosing a desk is sturdiness. Is there anything worse than investing in a wobbly desk that breaks within its first week of use? No! -- but that's why you're here, you're one of the wise ones, doing your research. 
The first thing to consider for optimal desk sturdiness is the shape of the column in the standing desk frame. Look for a desk frame with square columns for maximum sturdiness. Square columns disperse weight better than rectangular columns as they have the same strength and stiffness on all sides. 
The next thing to consider is the number of columns. Standing desks typically feature two or three columns. These columns are what work together with the motor to raise and lower the desk. 
You know what they say -- good things come in threes! To ensure the sturdiest work surface, look for an ergonomic computer desk with three columns. Always remember that more columns equal more support! 
Don't forget about your desk's feet. The wider and larger the feet, the more sturdy. Wider feet help to increase sturdiness and prevent desk swaying, resulting in a more stable surface for you to work on. 
Last but certainly not least, consider the weight capacity. How much weight can your desk physically withstand without incurring damage? Be sure to factor in the weight of your computer, monitor riser, monitor mounts, #BIGDESKENERGY desk accessories, and even that dying plant you never water from the office secret Santa. 
To give you a better gauge, the average Ikea office desk holds 110lbs. 
Desk Range
The reason you're investing in an electric sit-stand desk versus a manual sit-stand desk is for the ease of switching between the standing and seated positions. Therefore, you need to make sure your ergonomic desk has the right motor. Motors are what make your desk height-adjustable, helping you create the perfect ergonomic workspace. 
A recent study conducted by the University of Waterloo found that the optimal sit/stand ratio was 30 minutes of standing per hour.  With all that movement and heavy lifting, look for a dual-motor electric standing desk. This will help prolong the lifespan of your desk, as it splits the heavy workload over two motors. 
With the constant height adjusting, whether it be from multiple people, or switching between the seated and standing position, you'll want to look for an electric sit-stand desk with a built-in memory keypad system.  This allows the desk to adjust automatically with the push of a button. Save time by pre-setting the optimal positions, you'll never have to manually adjust the height again. 
Speaking of height, make sure the desk is able to adjust to fit your needs. The industry standard for a seated desk is between 28-30 inches tall, perfect for all you models and basketball players, but unfortunate for those of us who stand under 5'11. You want a desk with a wide range. For the perfect ergonomic desk height, don't just look for a desk that fits your needs, but a desk that adjusts past your needs!
It's always better to have too many options than not enough. After all, you never know when you'll hit that second growth spurt. That adjustable standing desk for tall people may just come in handy. 

Warranty 
How do you make sure you get the most out of your sit-stand desk? Warranty, warranty, warranty! 
A company that believes in its product quality will offer a long warranty and a risk-free trial. Make the most out of your trial period, and put that desk to the test!  Make sure you've got the best ergonomic desk for your needs. 
Finally, before you make your final decision, it's time to factor in price.  Don't forget to account for external costs. Does the company offer free shipping? Where are they based? While purchasing from another country, consider the currency conversion rate, as well as the added taxes, customs, and duties upon delivery.
PSA Canadian standing desk shoppers: EFFYDESK is a Canadian owned and based company - and our products are delivered to your doorsteps straight from Vancouver, BC - meaning no hidden customs and duties upon delivery!
TL;DR: EFFYDESK Business Office Desk vs. Uplift V2 Desk vs. Fully Jarvis Laminate Desk 
Ready to ergonomically optimize your workspace? EFFYDESK is here to help.  
After reading all about the dangers of sitting all day, the ideal desk posture, and the benefits of a sit-stand workstation, you're now ready to make your health a priority by investing in an ergonomically engineered desk. 
Well, there's no better place to start than right here!
At EFFYDESK — we design, mould, and deliver the best Electric Standing Desk for professional or personal use. Our award-winning ergonomic office chairs ensure that office workers are protected against desk job damage and are well-equipped to maximize efficiency and morale in the workplace — wherever that may be for you.
Browse our signature Standing Desks, Office Chairs, and Monitor Mounts designed to boost workplace productivity, so you can get more done, more comfortably. Claim your 30-day free trial today.
To learn more about EFFYDESK's products and services, be sure to check out our FAQ page or browse our ergomindfulness blog for more helpful articles on ergonomics in the workplace.