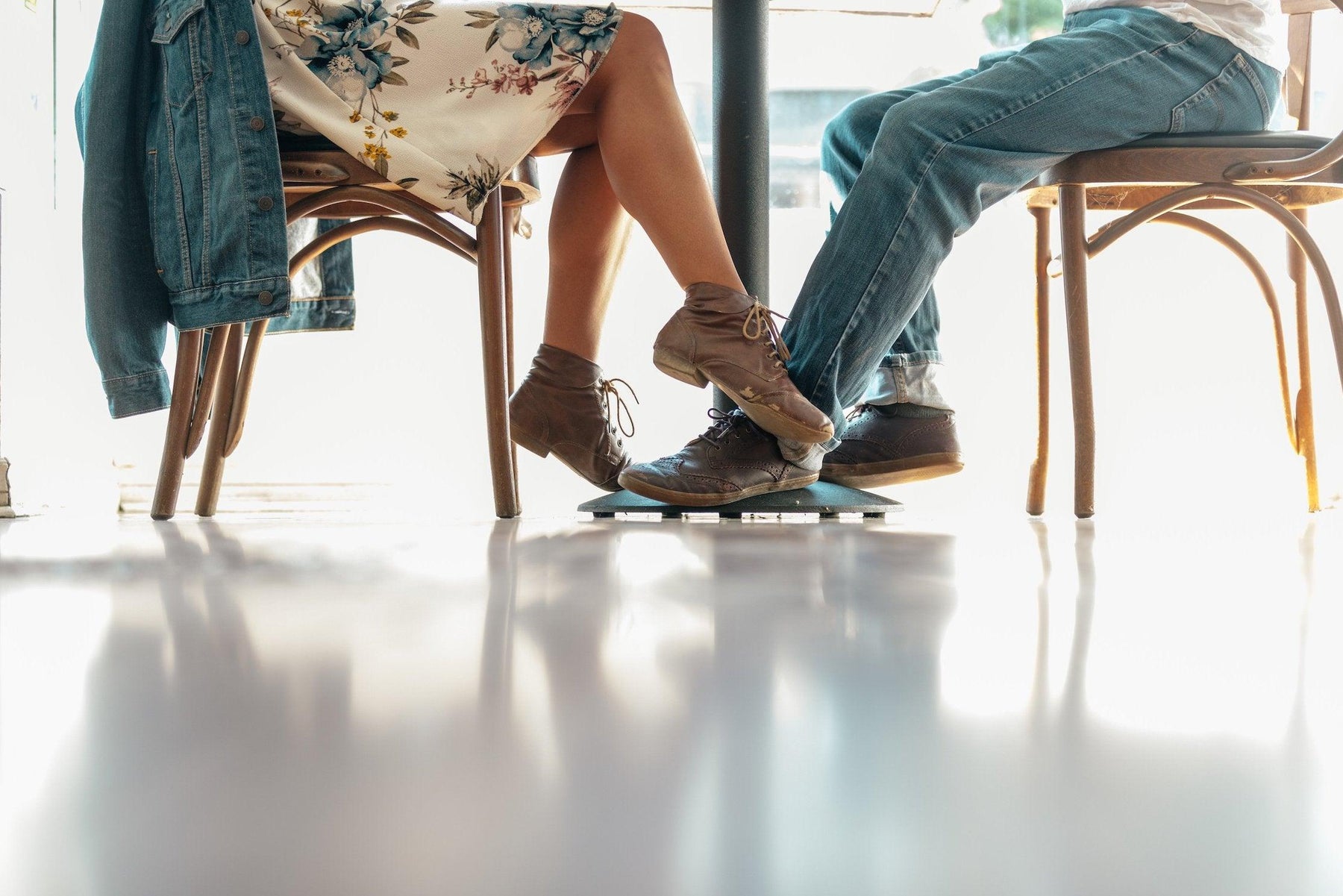 Anti-Fatigue Mats: Your Ergonomic Solution for Sore Feet
Whether you're sitting or standing, hours of sedentary desk work can cause foot pain.
At EFFYDESK, we work to bring you solutions that help you prevent foot, back, neck, and other bodily pains you normally get from working at a desk for long periods of time. While there are many home remedies online on how to treat foot pain, there are also ways to prevent foot pain and other health and safety issues related to sore feet. 
What do we mean when we say, "sore feet"? Many desk users like yourself experience foot pain in the form of: 
Swollen Feet/Ankles

Sore Arches

Toe Pain/Cramps (e.g. in your big toe)

Foot Fatigue or Tiredness

Aching Heels
According to Ontario Chiropodist, 75% of Canadians "will experience foot health problems of varying degrees of severity" during their lifetime. If you've ever experienced pain in your feet from working in an office environment, don't worry - you're not alone. EFFYDESK has put together 4 simple tips to help you alleviate foot pain and maximize comfort while working from your desk. 
Solutions for Your Sore Feet
Step 1:  Identify the cause
The first step to reducing foot pain is to identify the cause of your foot pain. Foot problems can arise from a sedentary lifestyle (sitting for long periods of time), physical activity and injuries (cuts, wounds, sprains). You may even experience issues with your feet depending on your foot arch, and the shoes that you're wearing -- high arches and low-"no" arched feet actually benefit from different types of shoes.  
Take a second to assess your posture while reading this--what are you currently doing with your feet? Where are your feet while sitting? The way you sit can be a cause of your foot pain. 
You might not realize it, but foot placement is crucial, even when you're not on your feet: 
Resting on the

ball of the foot,

with your heel off the ground puts your foot in an unnaturally arched position, causing muscle strain. Try lowering your chair so your feet are flat on the ground. 

Sitting with your

ankles crossed

puts pressure on your feet and ankles. Instead, keep your feet side by side on the ground.

Sitting

on your feet

causes aches and cramps over time. Try raising your chair, or lowering your desk, so you don't end up sitting on your feet all day to reach a certain height.
While working at your standing desk, make sure your weight is evenly distributed between both feet. Try not to lean on one foot, nor stand on the edges of your feet, as they can cause both back and foot pain! 
For ultimate comfort, try working from a sit-stand desk, and alternating between the standing and seated positions. Changing positions helps to even out and reduce pressure on the feet, decreasing foot pain. 
Now that you've familiarized yourself with the proper foot placement to reduce foot pain, what are some other measures you can take? 
Step 2: Reduce Swelling
Despite proper foot posture, sitting or standing for prolonged periods of time can cause swelling in your feet and ankles. 
Swelling is the result of poor circulation and indicates a buildup of fluid in the veins of your legs. To reduce swelling, Healthline recommends wearing compression socks to promote better blood flow in the legs. 
Another way to reduce swelling is by elevating your feet at your desk. This might be in the form of a simple footstool, or even a small garbage can flipped upside down under your desk. Additionally, swollen feet can be alleviated by taking short breaks to walk and get your blood flowing. 
Alternating between sitting and standing while working from your desk, is another great way to get your blood moving and reduce swelling! Note: Swelling in your legs, ankles or feet can also be a symptom of heart disease or chronic venous disease, For more information, please contact your doctor or a healthcare professional.
Sit-stand desks help reduce swelling when used in different positions throughout the day. At EFFYDESK, our electric adjustable desk memorizes your perfect standing height and adjusts automatically, making it easy to switch between sitting and standing. 
Step 3: Raise Your Arches
Sore arches and toe cramps are a result of poor arch support in your shoes. While working from a standing desk, make sure your arches are properly supported. Shoe inserts that slip into your shoe can help to provide better support for your arches and evenly distribute your weight across your feet. 
Make sure you wiggle your toes while you're working. It might sound silly, but this will keep the blood flowing to your toes and stop your little piggies from going stiff or cramping inside your shoes.
Step 4: Support Your Soles with an Anti-Fatigue Mat
The most common problem standing desk users face is foot fatigue and heel pain. While it's recommended that standing desk users alternate and take breaks to sit down every 30-60 minutes, many still feel discomfort in their feet and legs from prolonged periods of standing. 
In conjunction with wearing proper footwear, for additional arch support, use an anti-fatigue mat to prevent foot fatigue. Anti-fatigue mats are commonly used to decrease foot and lower limb disorders, in industries where workers are on their feet for extended periods of time. 
Proper anti-fatigue, office floor mats are designed to support your feet, absorb shock and relieve tension. The soft foam of the mat moulds to your feet so that your arches are well-supported. Be sure to look for a mat with tapered edges to prevent tripping! 
At EFFYDESK, our anti-fatigue mat is ergonomically engineered and designed, for maximum comfort and support. The extra-thick, non- slip, ergo cushion sits underneath a soft foam layer that molds to the contours of your foot, with beveled edges to prevent tripping. 
Looking for an Anti-Fatigue Mat? EFFYDESK is Here to Help!
At EFFYDESK — we design, mold, and deliver the best Electric Standing Desk for professional or personal use. Our award-winning ergonomic office chairs ensure that office workers are protected against desk job damage and are well-equipped to maximize efficiency and morale in the workplace — wherever that may be for you.
Browse our signature Standing Desks, Office Chairs, and Monitor Mounts designed to boost workplace productivity, so you can get more done, more comfortably. For local Vancouver customers: EFFYDESK offers fast and reliable installations, too! Claim your 30-day free trial today.
To learn more about EFFYDESK's products and services, be sure to check out our FAQ page or browse the blog archive for other helpful articles on ergonomics in the workplace.